This page is under construction as we update our website content.
Ridgeline Instruments thanks you for your patience.
eDAQ1b Reconfigurable Data Acquisition System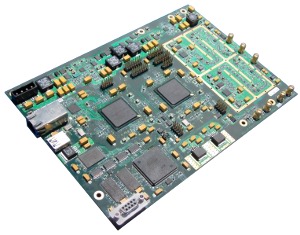 eDAQ1b Radar Data Acquisition System
At the heart of the RXM-25 radar system is Ridgeline Instruments' eDAQ1b data acquisition system. eDAQ1b is a small form factor, single board, dual-channel digital receiver governed by an embedded microcontroller running a full-size Linux operating system. The eDAQ1b control interface and digital receiver data output share a single 1GB Ethernet port, avoiding the need for a network switch. Some of eDAQ1b's features are a programmable gain analog front end, sampling speed in excess of 230 MSps, high-resolution tunable down-conversion frequency for automatic frequency control applications, external or on-board reference clock options, miscellaneous I/O channels, and a host of real-time user selectable operational parameters.
ARMGPS is Ridgeline Instruments GPS receiver solution, decoding GPS based position and time and passing it along for radar data time and location stamping. In addition, ARMGPS can generate GPS disciplined reference oscillator signals, allowing frequency locking of multiple RXM-25 radar units for sub-pulse synchronization applications such as multi-static radar operation.